For over 40 years, REDARC Electronics has been a lead creator of power solutions for those who live life outdoors and on the go. From their South Australian-based facility, REDARC aims to provide a global answer to the question: how do I power this? Their product lineup includes battery chargers, brake controllers, inverters, and a variety of other electronic products designed to keep you powered up, whether you're RVing, overlanding, boondocking, or trucking off road. Whatever your calling, there's a product to fit your needs.
Of course, these innovative, award-winning solutions are about more than charging your battery or controlling your trailer brakes. REDARC is committed to providing superior safety and convenience for your every adventure.
FIT FINDER
Custom-Fit REDARC Brake Controllers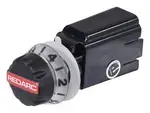 TRAILER BRAKE CONTROLLERS
What can you expect when you purchase a REDARC trailer brake controller?
Discreet Functionality

REDARC's innovative dash-mounted knob is revolutionary in the world of towing. No more banging your knee or cluttering up the cab with a bulky brake controller. Instead, REDARC's accessible, OEM-like LED knob puts the control right at your fingertips.

Simple LED Diagnostics

No more guesswork or squinting at tiny LCD screens! The brightly colored LED knob tells you which braking mode you're in, when your trailer brakes receiver power, whether there's a fault in your wiring, and more.

Off-Road Readiness

REDARC's Tow-Pro brake controller line features a user-controlled braking option, which is perfect for overlanding or towing off road. Safely navigate everything from thick mud to steep hills to rolling sand dunes with a Tow-Pro Classic or Tow-Pro Elite brake controller.

Shop Now
BATTERY CHARGERS
What can you expect when you purchase a REDARC battery charger?
3-Stage Smart Charging

REDARC's smart chargers power up your auxiliary battery in 3 distinct stages so your battery reaches maximum capacity—without being overcharged.

Green Power Priority

Harness the power of the sun with one of REDARC's dual-input chargers. The built-in Green Power Priority ensures that power is pulled from your solar panels first and your vehicle's alternator only when necessary.

Powerful Choices

Whether you need 12V or 24V power, REDARC has the perfect charger to keep your boat, RV, or trailer battery in topped off and in top-top shape.

Shop Now