Installation/Removal of the Surco BT300 On a Jeep Wrangler
I need to use the spare tire on my Jeep TJ, and cant figure out how to take off that back plate. If its screwed on, I cant imagine I screwed it on that tight! How do I get it off?
asked by: Jim D
The backing plate of the Surco Bike Rack part # BT300 that you referenced attaches to the rim by it sliding over the mounting plate for the wheel and then using the lug nuts that attach the wheel to the vehicle as a way to secure the wheel and the mounting plate to the vehicle. If you can loosen the bolts that hold the wheel to the vehicle it should remove.

It is also possible that you are referring to the security bolt that holds the rack to the mounting plate. That would have been tightened pretty good so hitting it with WD40 and letting is soak for a few minutes would be the best option here.
expert reply by:
Jameson C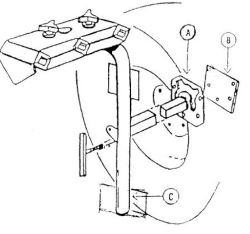 click to enlarge
Ask The Experts a Question >>