How to Measure Trailer Leaf Spring to Find Correct Replacement
How do I measure the length of utility trailer springs, straight across or along the curve? The ones on there now measure 32 1/2 inch along the curvature from the center of one bolt hole to the center of the other bolt hole.
asked by: Cliff C
To correctly measure a leaf spring, you'll want to jack the trailer up on jack stands so the axle is hanging freely, then measure directly across from the center of one spring eye to the other, as shown in the provided diagram. The height of the spring and the distance from the spring eye to the center of the spring can also be helpful in finding the correct replacement.

To ensure you're getting the correct leaf springs, you'll also need to know the capacity of your axle. If you can find that information on the axle itself, we can make a pretty good guesstimate if you can provide as much as the following information as possible:

Axle diameter (or circumference divided by 3.14)

If the axle is 1 to 1-1/2 inches in diameter, it's likely a 1000 lb axle
2-3/8 in diameter, 3500 lb axle
3 inches in diameter, 6000-7200 lb axle
3-1/2 inches, 8000 lb axle
4 inches, 9000 axle
5 or more, 10000 lb axle

Knowing the wheel bearing reference numbers or the wheel's bolt pattern will also be a good clue to the axle capacity.
expert reply by:
Mike L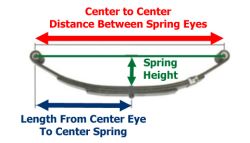 click to enlarge
Ask The Experts a Question >>