Replacement Trailer Taillights for Trailstar Boat Trailer
Please see the attached picture. These are Peterson taillights on my Trailstar boat trailer. I would like to replace with duplicates mainly because I like the plug in feature but cannot find. Would wiring be compatible with the Wesbar lights? *Note the 3 prong plug and different colored wiring. If I buy the Wesbar lights, what wire colors should I match up?
asked by: Dennis C
The Wesbar taillights you were looking at # 403026 and # 403076 would be a great replacement for your Peterson lights, I can even help you transfer the plugs to the Wesbar lights.

First you will want to use wire snips to snip the plug off your currently light, I recommend doing this closer to the light than the plug to allow for extra wire to work with. Next you will need some butt connectors, I recommend the heat shrink type like Deka # DW05743-10, these will help keep moisture from getting into the connection. Since the wire gauge on the Wesbar taillight is 18 then you will want to use an 18 gauge butt connector to reattach your Peterson plug. I would recommend wiring to function since I can't be sure which function is which on the light you currently have. On the Wesbar light you will have a white ground, a brown brake and a green/yellow turn wire. After all the connections are made I would enclose your wired butt connections with electric tape to really seal that connection from moisture.

Unfortunately, we don't have a Peterson direct replacement for what you currently have.
expert reply by:
Jackie C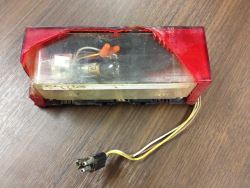 click to enlarge
Ask The Experts a Question >>