Locating Brake Stop Lamp Signal to Install Brake Controller on 1998 Chevy C/K Series Pickup
is it ok to connect the red brake wire supplying power from the peddle to the trailer plug back at the plug location instead of directly at the peddle switch
asked by: Rick
You wouldn't be able to access the brake lamp signal at the trailer connector because the right turn and left turn lamp circuit also carries the brake lamp circuit. This could cause the trailer brakes to apply when you use the turn signals.

The brake switch is very hard to access in these trucks, because of the under-dash bracing that's in the way. You have two options. You can access the brake signal from the circuit feeding the third brake lamp, or you can try to access it at the junction box under the dash near the emergency brake pedal.

The wiring harness carrying the taillights usually runs under the driver's or passenger side door threshold. Use a circuit tester like part # PTW2993 and probe the wires until you locate the wire that only shows voltage when the brake pedal is pressed. Once the circuit is located, you can tap the red wire into it. The other option would involve the junction box. Look for male spade terminals that are labeled 'NAT', there might be more than one. Use the circuit tester on the spade terminal, looking for the spade terminal that only shows power with the brake pedal pressed. If you find one, you can install a female spade terminal # DW01899-1 on the end of the red wire and push it onto the terminal you found.

I've provided a photo showing what the junction box looks like, it's a little blurry but it should prove to be helpful.

We also offer a brake controller installation kit that you might be interested in, part # 5506.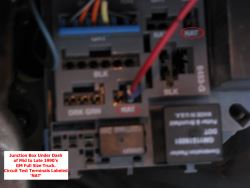 click to enlarge
expert reply by:
Mike L
Ask The Experts a Question >>