How to Wire Wesbar 7-Function LED Wrap-Around Tail Light 271594
I was trying to install my new boat trailer lights and once I removed the old light I noticed the old lights had a three prong connector and the new lights had a two prong with a white ground wire. Do I need to cut and splice the wires to install? The wire colors between the trailer and the new lights are not the same. The new lights have red, black, and white. I know white is the ground but what do the black and red wires correspond to on the trailer wires?
asked by: Ty
Thank you for your photo. On your trailer's original lights the connector's exposed pin is the ground while on your replacement light # 271594 the ground is on the white wire as you noted. For these new lights the red wire carries stop/turn signals while the black wire carries running light signal.

You can use butt connectors like # 05731-5 to make your wire splices and we recommend also applying electrical tape over those splices to protect them.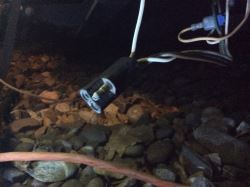 click to enlarge
Ask The Experts a Question >>