Great Priced Fat Tire Platform Bike Rack that Doesnt Wobble Over Bumps
How would I stop the wobble with the Curt 18084 mounted to my truck using the stabilizer strap 18050? I have a fat tire bike so its heavy.
asked by: Larry
The stabilizer strap part # 18050 really isn't designed for removing wobble or movement from a bike rack. It really is only designed to take out some of the vertical shock on the rack from hitting bumps with the rack loaded.

The most similar fat bike rack to yours that actually comes with wheel trays that are designed for the fat tires and has shown to be very stable is the Curt 2 Bike Platform Rack for Fat Bikes # C18085-FB.
expert reply by:
Jameson C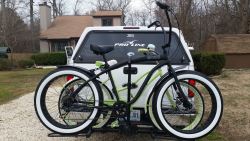 click to enlarge
Ask The Experts a Question >>
Featured Help Information
Instructions