What is the Difference Between a Manual Lockout and No Lockout Brake Actuator
What is the difference between no lockout to a manual lockout on a brake actuator
asked by: Jimmy
A brake actuator with a manual lockout, like part # T63FR, will have a lockout lever on the actuator that prevents the internal spring and shock from engaging the master cylinder when backing up (see photo).

A no lockout brake actuator, like part # DM72VR, does not have this feature, so the trailer would either need free-backing brakes or an electric lockout solenoid like part # DM11993 to keep the brakes from locking up while in reverse.

Backing up a trailer with hydraulic surge brakes can have the same effect on the brakes as normal braking while driving because the weight of the tow vehicle is pushing into the trailer causing the hydraulic brakes to engage. A lockout device of some sort such as a manual lockout lever, an electric lockout solenoid or free-backing brake assemblies may be necessary if you encounter this problem.

I have attached a few demonstration videos and installation videos for you to check out on these products. If you can tell me what parts you need and a little more about your trailer, I would be happy to recommend specific parts for you.
expert reply by:
John H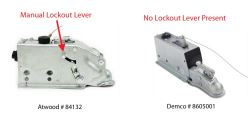 click to enlarge
Ask The Experts a Question >>