Will Slider Hitch with Sidewinder Pin Box Help with Turning Clearance
I have a 2015 Ford F-150 Crewcab with a 5.5 ft bed. I had a Curt A16 installed. Trailer is a 2017 Shasta Phoenix 296, Also installed on it was a Reese Sidwinder. The universal lockout for the sidewinder was installed and I had a lot of play, I ordered the Reese wedge fir the Curt A16 from your site. My question is, Woukd a slider help in my case, I need the extra room even with the sidewinder. I was backing into a tight space and took out my cab light lense. Luckily no window or damage to the roof, minor cosmetic to the trailer and a new lense on order. Im thinking of a slider kit for the Curt A16 but it says not recommended for a bed under 6 Feet. Also might just do away with the curt because of how much play it had. Turning, stop and go.
asked by: Jesse H
You cannot use a slider with a Sidewinder pin box. The slider will push the Sidewinder back into your tailgate plus it would put too much weight too far behind the rear axle of the truck which would cause problems as well.

Your length of bed truck really isn't ideal for towing but the setup you have now with the Sidewinder is the best possible solution.

The new wedge # RP31016 will take care of the play too.
expert reply by:
Jameson C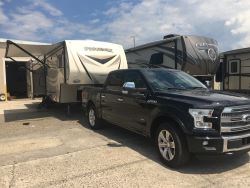 click to enlarge
Ask The Experts a Question >>