Using a Curt Stabilizing Strap on a 2013 Toyota Highlander with a Spoiler
Hello, I just installed the curt 13534 hitch receiver and have the strap for a bike rack. I have a Highlander 2013 and there is a spoiler at the top of the hatch. I am hesitant to place the strap there in case it damages the spoiler. Where else can I hook the strap to?
asked by: J
You have a couple options to use the Curt Stabilizing Strap, part # 18050 with a spoiler.

One option is to use two straps and hook to either side of the rear hatch, circumventing the need to attach to the spoiler at all. You would need to put a lot of effort into tightening the straps, but this would avoid the spoiler.

A variation of this would be to lean the bike rack down, attach the anchoring strap to the bottom of the rear door or the back of the bumper and hold it tight while closing, then tilt the bike rack back up or install it to the hitch and tie it off. This would prevent you from using the rear hatch, but avoids the spoiler.

Finally, you can attach the strap to the Curt Trailer Hitch Receiver, part # 13534, itself, looping around the metal loop where the safety chains would attach.. This is the least stable method, but is an option if you're really wanting to avoid risk to your paint.

I've included a customer image of a Cadillac roof spoiler and how they attached over the top of their spoiler, which I don't recommend doing, as well of one of a customer attaching to the bumper of his vehicle rather than the door.

Additionally in the first attached video, you can see a simple padding solution on the rear of a Toyota Prius.In the attached video of the Yakima HangOut, part # Y02637, you can also see a 2016 Toyota Highlander with the similar support straps on the Yakima HangOut attached to the bottom of the rear hatch door.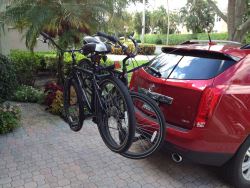 click to enlarge
Ask The Experts a Question >>
Featured Help Information
Instructions
Miscellaneous Media