Roof Vent for a StarCraft Pop Up Camper
I have a 2006 StarCraft pop up camper. The roof vent cracked from sun damage and I need a replacement. Im not sure which one of your products fits it.
asked by: Becky G
We can find you a new roof vent for your StarCraft Camper, though we do not have access to parts list for each year, make and model of trailer. Should you have the standard 14-1/4" x 14-1/4" roof vent opening I recommend taking a look at the Ventline Ventadome # V2092SP-28 for a manual lift vent without a fan, or Ventline Ventadome # V2119-601-00 for a powered lift vent with a 12V fan; this vent is white though it also comes in smoke # V2119-603-00.

I've added links to video reviews of these products for you to take a look at.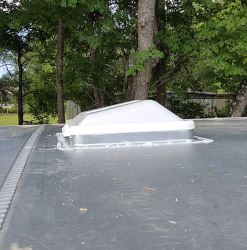 click to enlarge
expert reply by:
Kyle S
Ask The Experts a Question >>