Recommended Vent Replacement for Sundowner Horse Trailer Tack Room
I purchased one from your site - and apparently its not the right one. I measured it it and it seems just under 14x14. With the attached photo can you help me the correct part? I also took a picture of the one I ordered which said it was 14x14 but definitely does not fit.
asked by: DeeAnn L
I believe the tack room vent on your Sundowner is smaller than standard size vents and we don't have anything to fit your current vent. I had another customer a while back that measured their Sundowner and it was 13x13 inches so not a standard size.

If you wanted to enlarge the hole and go with a different vent all together we have the Ventline Ventadome Trailer Roof Vent - Manual - 14-1/4" x 14-1/4" - White # V2092SP-28 which is a very popular option and would give you the standard size that has replacement parts readily available as needed. This is the standard size that is often referred to as 14 by 14. I recommend the Installation Kit # 344270KITW to give you everything you need for an easy install.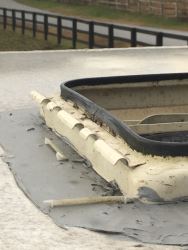 click to enlarge
Ask The Experts a Question >>