Recommendation to Relieve Pressure on Weight Distribution System
I have a 2006 Toyota Tundra 4x4 . I tow a 6100lbs camper with a dry hitch weight of 636lbs. There is some stuff in the front storage area and I also have firewood and bicycles or kayaks in the bed. I currently use a weight distribution hitch and it works but I have a lot of pressure on it. Would Summo springs help me? Which ones would I need light, medium, heavy duty? Thank you
asked by: Steve H
Adding a suspension enhancement system like the SumoSprings # SSR-610-40 that you referenced might help to relieve some of the pressure you are having to put on your weight distribution system, but the actual benefits will be pretty minimal. This is essentially because your properly rated WD system won't really allow the springs to even engage too much, since the system is already distributing your tongue weight to the truck and trailer. These two components can also actually work against each other, which is why we typically don't recommend both a WD system and suspension enhancement system at the same time for a towing setup.

If you feel like you are putting too much pressure on the system, a better option might be to simply upgrade the spring bars on the weight distribution system to a set that features a higher tongue weight capacity. The amount of pressure you are needing may indicate that the total tongue weight of your setup (which does include the kayaks, bikes, etc that you have loaded in the bed) may be pushing the limits of the system. Based on the picture you provided, it looks like the system is doing a fine job of keeping everything level, but your total tongue weight might be towards the high end of its capacity.

Ideally, the total tongue weight of your setup will fall somewhere near the middle of the operating range of your weight distribution system. If you can tell me what model weight distribution system you have, I will be happy to recommend some replacement spring bars that will upgrade its capacity and possibly offer a more comfortable range for your total tongue weight.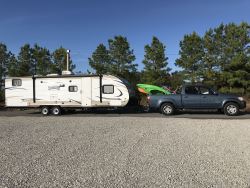 click to enlarge
expert reply by:
Chris R
Ask The Experts a Question >>
Featured Help Information
Instructions