Should Rear Bar Sit Higher Than Front Bar on Yakima Roof Rack System for 2017 Honda Pilot
Since you've been so helpful I would like to purchase my rooftop cargo box from etrailer. We are a family of 5 and will probably use it 3 or 4 times per year mainly to transport bike gear like helmets, hydration packs and other backpacks. We're in Florida so it doesn't need to be able to hold skis or snowboards. In addition, we have a Yakima Frontloader that will also go on the roof. The box doesn't have to be Yakima, I would like to find a good quality one that won't break the bank. What do you recommend?
asked by: Jason B
The front and rear Yakima JetStream Crossbars like # Y00426 should be level to each other on your 2017 Honda Pilot. Looking through the installation instructions for the BaseLine Towers # Y28TR and Fit Kit # Y00146 for your Honda Pilot, it does appear that the feet are positioned onto contours that are on the vehicle's roof. To compensate for this and to make sure the front and rear bars are not mounted at different heights, the pitch setting on the Yakima Feet need to be adjusted. I recommend making sure this was done correctly, as this might be what is causing the front bar to sit lower than the rear.

For your 2017 Honda Pilot, the pitch setting for the front feet should be "A" and the pitch setting for the rear feet should be "B" (see attached image). This will allow for a 6 degree tilt forward on the front feet and a 6 degree rear tilt on the rear feet.

If this does not resolve the issue, please let me know and I will be happy to look into this further.
expert reply by:
Chris R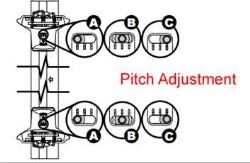 click to enlarge
For the roof of your Honda Pilot, I recommend taking a look at the SportRack Horizon Rooftop Cargo Box # SR7016. This is a really nice, but economically priced cargo box that provides 16 cubic feet of space that will work perfect for your helmets, backpacks, and various other cargo items. It will fit the Yakima JetStream crossbars on your vehicle and includes an integrated lock to ensure that your gear is secure. The box has an external width of 32-3/4 inches, leaving you plenty of room for your Yakima FrontLoader Bike Carrier # Y02103 to mount alongside it on the Yakima Roof Rack.

I have attached the manual for this cargo box that you can also take a look at.
expert reply by:
Chris R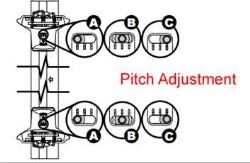 click to enlarge
Ask The Experts a Question >>
Featured Help Information
Instructions