Ways to Determine Weight Carrying Capacity of Boat Trailer
Im looking to purchase a used boat trailer and trying to determine the carrying capacity of the trailer to assure it can safely haul our boat. Its an EZ Loader trailer and the private seller has sent me a picture that has a white plate with the following info: C22639-3000#. There is also some numbers hand written/ scratched into the front passenger side of the frame that is 25646234. At the end of this set of numbers something that looks like a lower case b or t. Is any of this information helpful in helping me figure out the carrying capacity? Thanks, New to boater
asked by: Rita W
Thank you for the photo of the EZ-Loader boat trailer you are considering.

The best ways to determine any given trailer's weight capacity are to provide the VIN to the manufacturer or to check the axles themselves for a sticker or plate that indicates their weight rating. You can also check the main identification plate on the trailer (the one that has its VIN) to see if axle ratings are included in that information. Sometimes trailer makers will include this.

I could not find any confirmed information using the two numbers you provided. The longer number could be anything from an inventory stock number to an invoice number.

You can get an approximate weight capacity for the axles based on their diameter. Axles of 2-3/8-inches diameter typically are rated for 3500-lbs. 3-inch axles are typically rated for 6000-lbs up to 7200-lbs.

In the same way you can check with the boat manufacturer to confirm the craft's full weight if this is not already known.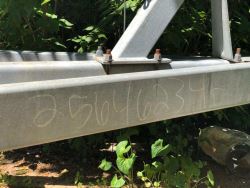 click to enlarge
Ask The Experts a Question >>