Small Gap Between Trailer Frame and Timbren Axle-Less System After Installation
So I am having a hell of a time trying to explain an issue I have after the install of the axle-less suspension. We had our trailer suspended off the ground on jack stands. Each Timbren suspension was held to the frame with 2 jacks. The jacks tension on the axle-less suspension units was enough to actually left the trailer so we know we had them flush to the frame rail, yet as soon as we were done bolting them and we released the jack tension there is about an 1/8th in gap between the suspension mount plate and the frame rail. This is on both sides of the trailer so it would seem that there is some flex to the suspension when it is not under load.
asked by: Kyle W
The weight of the trailer itself will slightly compress the rubber springs on the Timbren Axle-Less suspension systems such as # A12WS545. Since the gap is so small redrilling the holes won't help. Your best option is to use appropriately sized steel plates between the trailer frame and the Timbren system to close that gap.
expert reply by:
Michael H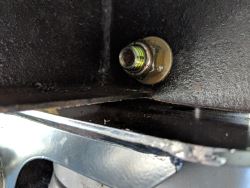 click to enlarge
Ask The Experts a Question >>