Replacement Brake Actuator and Braking Assemblies for a Trail-Rite Trailer
I replaced the master cylinder for this old Trail-Rite trailer, what you offered was a perfect match. Thank you! But I will need wheel brake cylinders for this trailer as well...both started to leak after replacing the master cylinder with the head assembly. I checked the bolt pattern. 4 bolts, at the tips of a square 72mm from each other. My trailer wheels are 14. Not electric, and the hydraulic cylinder only works one way. Can you please offer me brake cylinders/brake assemblies? Thank you
asked by: Matt
Thanks for the photo! In order to replace the surge brake actuator, I recommend taking a look at the Titan Zinc-Plated Brake Actuator part # T43397007K. This actuator is zinc plated for corrosion resistance, will work with 1-7/8"/ 2" hitch balls, and can utilize an electric lockout like # T4748800 for easy reversing. It will fit a 3" wide tongue and comes with a one year warranty. I have attached a review video for you as well.

Unfortunately, we would not have the correct brake cylinder for you. I would be able to provide you with an entirely new braking assembly if you can confirm the brake mounting flange bolt pattern and dimensions of your brakes. Once you do this I have attached our section of hydraulic drum brakes for you to look through.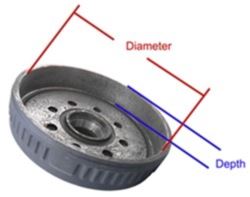 click to enlarge
expert reply by:
Conner L
As long as your drums measure to be 10" diameter x 2-1/4" deep (see photo) then I recommend using the Hydraulic Trailer Brake Kit part # AKUBRK-35-D. These brakes use a four bolt brake mounting flange and have a dacromet finish for increased corrosion resistance. They have a single servo design but since the actuator you just installed has an electric lockout, freebacking will not be needed.

I have attached a review video of these brakes for you as well. The only thing you will need to use them is the mounting hardware part # BRKH10B.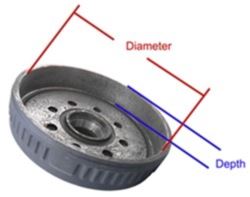 click to enlarge
expert reply by:
Conner L
Ask The Experts a Question >>
Featured Help Information
Miscellaneous Media