How to Determine Stop/Turn/Tail Light Wiring on Trailer for Peterbilt Log Truck
I have a 7 port terminal. With your normal wire colors white blue red green yellow black amd brown. On my log truck. What wires connect to the 3 wire stop turn and tail lights the black amd brown wires seem to be connected. 2 wires into 1 not sure why which go to the black port. On the terminal housing.? I got the green wire works for right turn amd yellow for the left turn. But brakes lights dont turn on. Its to my 74 peterbilt log truck. Are you supposed to match the terminal ports to the color they list? Truck run on air brakes too. Replaced all air brake switches too.
asked by: Tom
Even though there are some generic wire colors for certain functions there isn't really a rule saying that those colors have to be used. The result is that any color can be used for any function which can get confusing. The best way to make sure that you have everything connected properly is by using a 12V power source (like an external battery) to test the wires on your trailer so you know what function each one goes to. Ground the negative terminal of the battery and use the positive terminal to test your wiring.

I am not sure how the wiring on a Peterbilt is run so it would be best to use a circuit tester like part # PTW2979 and test your 7-Way. Take note of what each pin controls and then wire your junction box on your trailer so that the trailer 7-Way matches up. Please note that there are only 6 wires connected in your picture so you may not have an auxiliary source connected (see example picture).
expert reply by:
Jon G
click to enlarge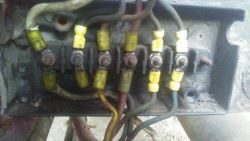 click to enlarge
Ask The Experts a Question >>