Troubleshooting Continuous Power Being Sent from Tekonsha Prodigy P2 Brake Controller
when I set boost for 6.0 and release lever, controller continues to send about 1.1 volts back to trailer breaks. This condition continues on display even if trailer not plugged in. Is the controller not working properly ?
asked by: A H
Even though the Tekonsha Prodigy P2 # 90885 may not be activated through the foot pedal or override switch it does send a small amount of power back to the 7-Way to check for a trailer connection. If you are seeing a little bit of power on the pin in the 5 o'clock position on your 7-Way then that is normal, but if that is also being displayed on your P2 screen then something internall is going on with your controller and you need to replace it.
expert reply by:
Jon G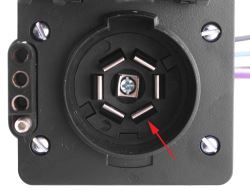 click to enlarge
Ask The Experts a Question >>