Skid Wheel Needed for Coupler with Safety Chains Loops in the Way of Hitch Pin Mounted Wheel
I have a 2 3/4 distance from the center pin to the face of the receiver and the chain tabs impeding sliding a skid wheel on from below. Any recommendations on the best skid wheel in this situation?
asked by: Carl D
Since the location of your hitch pin hole and the safety chain tabs don't allow you to use a skid wheel like part # UF48-979020 or # RM-050, the only other option that may work is if you welded a skid wheel like part # UF48-979021 onto the bottom of your hitch receiver. The only issue with this is that if you have a fairly hefty vehicle it may not hold up very well as there is a note not to install it on a diesel pusher motorhome.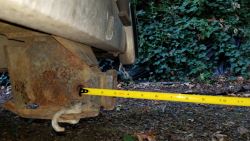 click to enlarge
expert reply by:
Jon G
Ask The Experts a Question >>