Recommended Trailer Vent with Integrated Screen for 14x14 Inch Vent
I measured the screen in my 2005 Horton and it measures 14X14. Does this mean that I need to order a 14inch complete assembly? Both of mine are no good and I need to order the correct Item the first time.
asked by: Stephen W
Unfortunately we don't have the replacement screen for your assembly based on the photo. I recommend using the Ventline Ventadome Trailer Roof Vent - Manual - 14-1/4" x 14-1/4" - White # V2092SP-28 as a complete replacement as it is a very popular brand with the replacement screens if you should need it in the future. These vents are all a standard size that is referred to as 14 by 14 even though the rough opening is a 1/4 inch larger in both directions.

If you prefer the smoke colored cover, then you will want # V2092SP-29.

To install this vent, I recommend the Installation Kit - for Ventline Ventadome Trailer Roof Vents - with Screws and Sealant # 344270KITW. I've attached some videos to assist.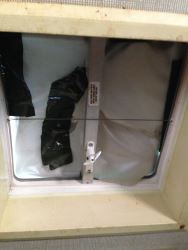 click to enlarge
Ask The Experts a Question >>