How To Determine Gooseneck Coupler Weight Transferred to Truck
Hi I took my truck and gooseneck trailer to the a scale after getting weights how can I know how much weight is transfered to my truck reason Im asking is because is because Im planing on doing hot shots and want to know how much weight I can haul
asked by: JORGE
Each trailer will be slightly different in regard to the weight at the coupler. The best way to find out the trailer coupler weight is to use a scale like the etrailer Trailer Tongue Weight Scale - 2,000-lb Capacity # e99044.

Another way to determine your specific trailer weight at the coupler is to put your truck on the scale when it is not connected to the trailer and then weigh it again with the trailer connected but with the trailer axles not on the scale and then subtract the difference between the two weights.

You will also want to check your owners manual for the towing capacity of your specific truck. There should be a sticker in the driver's door jamb showing the gross combined weight rating for your truck.

Most manufacturers have towing guides to help you determine your towing capacity based on the make, model, engine, transmission, axle ratio, cab, bed size, and if it is 2 or 4 wheel drive. This will give you the exact specs for your truck and gooseneck towing so you will know what amount of weight you can safely add to your trailer. If you want to give me that information, I'd be happy to assist with the specifics. Your gooseneck trailer should have GVWR capacity listed on it as well so you will be restricted to that number even if your truck is able to tow more. On the other side, if your trailer is rated for more than your truck, you will need to stay within the truck's rated capacity.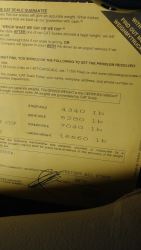 click to enlarge
Ask The Experts a Question >>