Interior Floor Mat for 2019 Ram ProMaster 1500 with 136-Inch Wheelbase
I'm looking to see about an interior mat for my 2019 Promaster 1500. It has the 136-inch wheelbase. I have seen them for the shorter 118-inch but do you have one for the longer van?
asked by: Christopher
We actually can offer you two choices in an interior mat for your 2019 Ram Promaster 1500 with the long 136-inch wheel base. Both come from Bedrug but they differ slightly in thickness and material so one may well be better for your specific application.

Part # VRDP14M is a 3/4-inch thick mat made with a top layer of carpet, which is bonded over a foam core. The carpet layer is non-skid which makes this mat better for heavy loads like delicate furniture that might tend to slide or put dents in your van's floor. It will also be more cushioned for when you're on your knees inside the van securing your cargo.

Part # VTDP14M is a 1/2-inch thick mat that has a top layer of heavy-duty thermoplastic over a foam core. This mat provides more insulation from heat and noise and may be better for hard commercial use.

I linked photos of both mats so that you can see their surface textures.
click to enlarge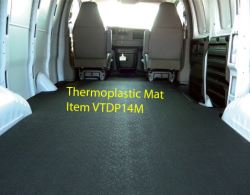 click to enlarge
Ask The Experts a Question >>