Replacement Bumper Needed for 2003 Ford E-350 Utility Truck
Good Evening, I was wondering if someone can help us, We have a 2003 Ford E350 Utility truck that needs a rear bumper assembly. Thank you,
asked by: Evaliz
We do have some Westin bumpers that will fit a 2003 Ford E-350 but I'm not sure how well they will fit with the utility truck configuration (see attached photo of inside of bumper. Also they do have a different design than the one you have in your picture. The Fey Diamondstep bumper comes in 3 different colors:

Silver Powder Coated Steel # 20105
Black Powder Coated Steel # 20107
Chrome Plated Steel # 21105

Please note that these do fall under the Prop 65 warning for California residents.
expert reply by:
Jon G
click to enlarge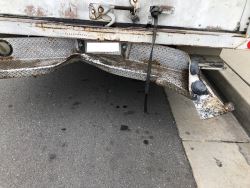 click to enlarge
Ask The Experts a Question >>