Gooseneck Hitch for Flatbed 1985 Ford F-250 Truck
How would I chose the proper hitch and mount for a truck with a flatbed on it. I don't mind having the hitch below the top of the bed and cutting an access hole but if possible I would like to have the hitch mount flush with the bed height. Also is it possible to mount a hitch without having to pull the bed? 1985 F-250 extra cab long box/flatbed without overloads.
asked by: John
You can definitely add a gooseneck hitch to your 1985 Ford F-250 flatbed truck, it will simply require a gooseneck designed for that purpose. The hitch you will need is the B&W Turnoverball Underbed Gooseneck Trailer Hitch for Flatbed Trucks # BWGNRK1500.

This hitch should be about flush with the bed, as you can see by the accompanying photo that a customer sent in of the hitch installed on their flatbed. The hitch does need to be welded to the bed so it is possible you may not need to remove the bed in order to install it.

I have added a link to the installation instructions for you to take a look at so you can see exactly how the hitch installs. I have also added a link to a video review of this hitch for you to check out.
expert reply by:
Kyle S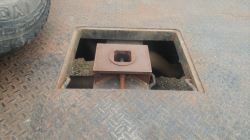 click to enlarge
Ask The Experts a Question >>