Replacement Motor and Switch Recommendation for Ventline Range Hood PR-4
The trailer was built around 1991. It has a 46 inch oVentline oven hood. We need a nw motor and switch. Tho motor has two wires by looks like an AC motor. The switch is a three settings plus OFF. It is a rotor switch. Can you tell me what PN I would need to replace switch and fan motor?
asked by: Scott
For your Ventline PR-4 range hood the AC power fan motor part # BVD0278-00 is the correct replacement. The replacement switch would then be the part # BL0108-02.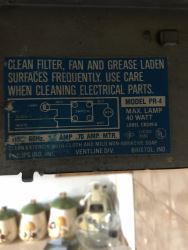 click to enlarge
expert reply by:
Jameson C
Ask The Experts a Question >>