Troubleshooting Sidewinder 5th Airborne Pin Box that Makes Noise Around Turns After Broken Wedge
I have a curt a16 and my sidewinder has been nothing but trouble. I bought the custom wedge and the wedge cracked in half after about 2000 miles. the sidewinder never rode straight it was always cockeyed after a turn. the hitch gets stuck every time I try and unhook and now its making extremely loud sounds when turning. I am not quite sure what to do. My fifth wheel is a recreation by design 42 and I am towing with a srw f350 the gvwr is 15250 so I should be well within my numbers on everything. Some solutions would be very helpful.
asked by: JIM D
Sorry to hear about your Sidewinder troubles. It's normally a really solid pin box so it's a bummer to hear it not working for you as great as we know it's worked for so many others. One solution would be to lock out the Sidewinder to see if that helps with the noise. The turret should only be locked out if there is enough clearance between the truck and trailer to make tight turns though.

The size bolts you'd need are 3/4 x 5-1/2 inch grade 5 bolts. Did you ever replace the wedge or are you still using the same one that's broken? If it's broken still that would be one reason it would make noise and not point correct direction. The replacement wedge you'd need is the part # RP31016.
expert reply by:
Jameson C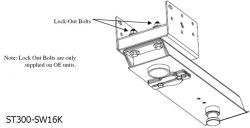 click to enlarge
Ask The Experts a Question >>
Featured Help Information
Instructions