How To Determine Functions of Wires to Install Trailer Connector
Need to wire a trailer plug on my truck. None of these colours match any diagram I've found. What colour does what?
asked by: Dylan
I really wish there was some universal color code for wiring as that would make everything a bit easier but unfortunately there isn't so really the only way to use a circuit tester and test the wires by function.

If you don't have a circuit tester the very handy Cordless Circuit Tester # PTW2979 would be my strong recommendation due to how easy it is to use. I have also added links to a pair of articles on trailer wiring which I highly recommend checking out as they contain a lot of very useful information.
expert reply by:
Kyle S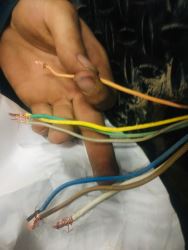 click to enlarge
Ask The Experts a Question >>