5th Wheel Trailer Pulls Nose High Are Spacers Available to Level with My 2011 2500 Dodge Ram Diesel
The problem Im having is that the front of my trailer is higher than the rear of the trailer when moving down the road. It does not pull level. My axles are under my springs. I still need my trailer picked up 1 1/2 to 2. I have a 2011 2500 Dodge diesel Ram Short Bed pickup and a Springdale 25 ft with slideout 5th wheel trailer. Our hitch is a pullrite hitch, model 2700. Does anyone sell a lift kit that I can use to raise the trailer?
asked by: Lyndel B
The first thing I would do in your situation is take the truck and trailer to your RV dealer and have them check out your setup. Typically 5th wheel trailers are set up to tow a bit pin high to allow for more weight transfer to the rear most axle or axles on the trailer.

If possible, you can adjust the trailer pin box closer to the underside of the trailer loft, or reduce the height of your fifth-wheel hitch head in the bed of your truck. Be aware that adjusting the trailer too close to the top of the truck bed can result in damage though. You should have about 6 inches of clearance between the truck bed rails and the underside of the trailer loft to account for pitch and roll of the trailer.

If the trailer dealer or a qualified technician determines that your setup is too high in the front for safe towing, or if you are experiencing trailer sway when on the highway because of reduced pin weight, then there are steps you can take to raise the trailer suspension.

I recommend checking with the trailer manufacturer or having a trailer professional look at your setup and determine if adding spacers is a safe alternative for your trailer. Installing spacers on top of the axle will change the ride height of your trailer making it more top heavy, which could cause issues when cornering, towing in high winds or passing other large vehicles.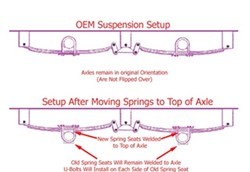 click to enlarge
Ask The Experts a Question >>