Curt Premium Bike Rack Overall Length For Use In A Dual Receiver While Towing Travel Trailer
I have a dual receiver hitch. Can this be used in conjunction - is there enough space for the trailer to turn with the bikes hanging off the back?
asked by: Jason F
I can help you determine the clearance you will have while using the Curt Premium 4 Bike Rack part # C18064 in your dual receiver like part # D-192. Please keep in mind the use of a dual receiver does cut your tongue weight capacity in half.

The Curt Premium bike rack part # C18064 measures 40 inches from the center of the hitch pin hole to extended arms for the rack. You should be able to determine your clearance with this measurement. There isn't really a specific number that I can tell you would be a safe range for turning with your specific trailer because it depends on the shape of the nose of your trailer and the distance between your trailer and the towed vehicle. Your trailer jack location could also effect the turning clearance.

Another option for you is to use the Curt Clamp-On 3 bike rack part # C18013 with a long ball mount like part # EA40 instead of using the dual receiver. The downside to this setup is the Curt Clamp-On is only a 3-bike carrier. There is not a 4-bike carrier available with this design.
expert reply by:
Heather A
click to enlarge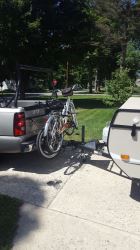 click to enlarge
Ask The Experts a Question >>
Featured Help Information
Instructions
Miscellaneous Media