Brake Shoes for Trailer with 10 inch by 1-1/2 inch Brake Assemblies
We need 10 in x 1.5 inch brake shoes only.
asked by: Jeanette A
Looks like you have a welded on brake assembly that possibly could have the brake shoes replaced with the part # BP04-065 which is for an older Dexter 10" by 1-1/2" setup that was made before 1999. See if you can find "Dexter" written anywhere on the assembly.

I attached a review video for this for you to check out as well.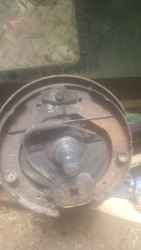 click to enlarge
expert reply by:
Jameson C
Ask The Experts a Question >>