Installing Castle Nut in Hub and Drum Assembly
Where do I find the torque specs for the hubs I purchased?
asked by: Mike
There are actually no specific torque specs for a hub and drum such as the Trailer Hub and Drum Assembly # AKHD-655-6-EZ-K. You really need to do it by feel, tightening it down so the hub spins but there isn't any looseness or movement from the hub on the spindle.

If you go to about the 2:40 mark of the linked video you can see our installer putting on a castle nut.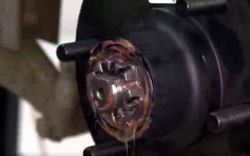 click to enlarge
expert reply by:
Kyle S
Ask The Experts a Question >>