Bike Rack For Spare Tire Clearance On 2014 Toyota FJ Cruiser
Hello. When I search, it states this is the best unit for my Toyota FJ Cruiser, but I haven't seen any pics with the FJ. Will it clear the full size rear mounted spare tire?
asked by: Stacey
The best way to really determine if the back rack will clear the spare tire is to measure from the center of the hitch pin hole on the FJ to the back edge of the spare tire. If you take a look at the photo I attached you will see what I mean.

If that measurement is less than 13-1/2 inches, a solid choice is the Thule Hitching Post Pro # TH934XTR. It's a customer favorite because it's dependable, affordable and easy to use.

expert reply by:
Heather A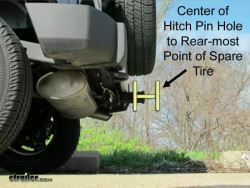 click to enlarge
Ask The Experts a Question >>