Recommended B&W 5th Wheel Hitch for a 2019 Ford w/ Factory Prep Package
I got a 2019 Ford F-350 Super Duty and I have the Ford hitch prep package with those pucks for the fifth wheel hitch and gooseneck. I think I know the right B&W Companion hitch that works but I want to make sure I get the right one so I don't have to try and return something so heavy. If you can help me out with fit I'd really appreciate it!
asked by: Randy A
Definitely a smart move to ensure the proper fit so you get the correct B&W Companion fifth wheel hitch for your 2019 Ford F-250 or F-350 with the Ford fifth wheel prep package. The only thing you didn't say is if you had a short or long bed so I'll give you the options for both.

Short Bed - 6-3/4' Bed: B&W Companion OEM 5th Wheel Trailer Hitch w Slider item # BWRVK3370

Long Bed - 8' Bed: B&W Companion OEM 5th-Wheel Hitch 20,000 lbs Capacity item # BWRVK3300 or 25,000 lbs Capacity item # BWRVK3305

You have made a really good choice by going with the Companion because it is widely regarded as the best fifth wheel hitch in the industry due to it's substantial, 1-inch thick jaws that provide the best connection between hitch and king pin, resulting in a quieter, more comfortable ride. I have added a photo of the jaws as well as a picture of this hitch installed in a Ford F-350 for you to take a look at. I've also added links to a couple video reviews of the Companion for you to check out.

To make towing with a 5th wheel easier I recommend adding the Curt 5th Wheel/Gooseneck Custom Wiring Harness w/ 7-Pole Connector - 10' Long item # C57010. This harness puts a 7-way connector in the bed of your truck and allows you to keep the one on your bumper. This makes hooking up to your 5th wheel trailer easier and more convenient.

The B&W Companion weighs over 150 lbs, over 250 lbs for the slider. If that's not something you're interested in moving by yourself and don't want to have to rely on someone to help you then I recommend purchasing the B&W 5th Wheel Lifting Device for Companion and Patriot Hitches item # BWRVXA3130. This heavy duty steel tool lets you lift your B&W 5th-wheel hitch from your truck bed with a hoist. The 5th-Wheel jaws clamp around the device for a secure grip.
expert reply by:
Kyle S
click to enlarge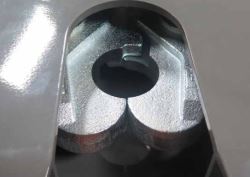 click to enlarge
Ask The Experts a Question >>
Products Referenced in This Question
Featured Help Information
Instructions
Miscellaneous Media