Can the Etrailer 3200 Watt Generator run on Propane?
Can an external gas tank be connected? Thanks
asked by: Jeff
Good Question! There are no external connection point for an auxiliary fuel tank on the generator. You should instead refill the on board tank periodically which is 1.8 gal. When doing the video on this generator I did not have any issues with tank capacity however everyone has different needs and ideas. This one would reliably run for 8 hours a day even when we were testing it with heavy loads from some of the 15,000 BTU air conditioners we were using. I will include a photo of when I did the High Altitude Jet Replacement part # 333-330717002 video on this generator. In the center top of the carburetor you can see the fuel inlet as you can see it is a very simple connection but can be a little difficult to get to as it is on the back side of the carburetor from the access panels. I hope that gives you the answer you were looking for!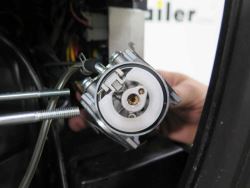 click to enlarge
Ask The Experts a Question >>