Determining if B&W Mounting Plate # BWPMHD14005 Will Fit in Rise Position on Jeep Wrangler Unlimited
I have a 2018 Jeep Wrangler Unlimited Rubicon. Do you know if part # BWPMHD14005 can be used in the rise position with the spare tire on the tailgate? They are stock Rubicon tires. The bumper and hitch are also stock, and the hitch sits just below the bumper. The shank appears long enough to clear the tire per my measurements, but Im worried that this plate will not fit due to the metal rise portion connecting the plate to the shank hitting the tire. I am not able to factor in the plate angle as I am unsure what it is. Any help you can provide is appreciated. Thank you!
asked by: John L
While I'm not able to verify if the B&W Pintle Hook Mounting Plate # BWPMHD14005 can fit without bumper or spare tire interference in the rise position on your 2018 Jeep Wrangler Unlimited (we just haven't had a chance to test this), I did go out to our warehouse to take a couple measurements that should help you determine this.

From the center of the hitch pin hole to where this angled piece starts there is a distance of right at 6-1/2". Halfway up the angled metal this distance grows to 9" and from the hitch pin hole to the back of the adjustment plate there is a distance of 12". I have attached an image to assist.

I recommend measuring the distance from the center of the hitch pin hole on your Jeep's hitch to the outermost point of the bumper and also the spare tire. You should hopefully be able to compare your measurements to the dimensions on the Pintle Hook Mounting Plate to determine if bumper or tire interference will come into play.

Please just let me know if an additional measurement might help in this and I will be happy to take it.
expert reply by:
Chris R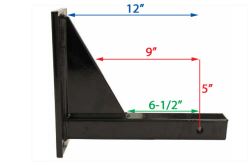 click to enlarge
Ask The Experts a Question >>