How To Replace Roof Vent Lid On Stealth Trailer
I am looking to replace a vent lid that blew off of my Stealth Trailer. I have attached a picture of what remains. Any help would be appreciated.
asked by: Mike
The most important component of the roof vent to look at when you are replacing the lid is the hinge. There is a 4 point plastic hinge, 3 point plastic hinge, plastic continuous hinge, or a continuous metal hinge. I have a attached examples for your reference. Your photo does look like you have a metal hinge so you could use part # BV0554-01 however you do want to make sure that is the hinge that you have because it is hard to see in the photo.

If you want an option that does not require you to get on top of the RV and check the hinge, I recommend MaxxAir UniMaxx Universal Replacement Lid for RV and Trailer Roof Vent part # MA00-335001 which comes with a pre-drilled bracket to fit the lid to your roof vent.
click to enlarge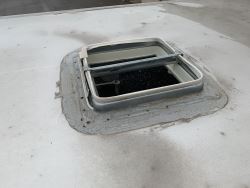 click to enlarge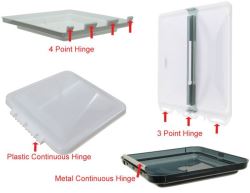 click to enlarge
expert reply by:
Heather A
Ask The Experts a Question >>