What Rise/Drop Spacing Do the 3 Holes on the Lock N Roll Articulating Rise/Drop Hitch Provide
Since this LNR has 3 stops what are they? It says max is 4.25, what are the other two?
asked by: Brett
The holes on the Lock N Roll # 336VS503505 are spaced 2" apart center on center, so you'll have 4.25" at the lowest/highest and then roughly 2" rise/drop and 0" rise/drop in the various positions it offers.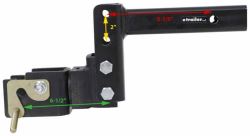 click to enlarge
Ask The Experts a Question >>