Hydraulic Drum Brake Actuator and Brakes for Dexter 8-201 Hub and Drum on Boat Trailer
Hello, I just purchased a boat and the trailer breaks are not working. I think the surge actuator is shot. It's an Atwood surge break actuator which I guess they no longer manufacture? I wanted to buy a new assembly but I'm not sure if the breaks installed are free backing or not? Also, if I decide to change the breaks themselves can you point me in the right direction? The pads have a lot of life in them but they have been sitting for a few years so I might just change everything to start fresh. Thanks!
asked by: Kris K
I have added a link to a help article on everything you need to replace (or add) hydraulic drum brakes, but let's start with the actuator. What you need to know is the weight capacity you need, the hitch ball size you are coupling to, and the size of your channel to mount the coupler (though there are also couplers for A-frames, though it doesn't sound like that's what you have).

For example, the Titan Zinc-Plated Brake Actuator - Drum Brakes # T4079200 has an 8,000 lb capacity, couples to a 2-5/16" hitch ball and also fits a 3" channel.

Then for the brakes, based on the photo you sent in, it looks like the hub is marked Dexter 8-201, which is for 5,200 to 6,000 lb capacity axles and has a drum that measures 12" x 2" though you will want to verify this by measuring. If so the correct hydraulic surge brakes are the Hydraulic Brake Kit # AKFBBRK-7-D.

These will fit that size drum and mount with hardware # BRKH12.
expert reply by:
Kyle S
click to enlarge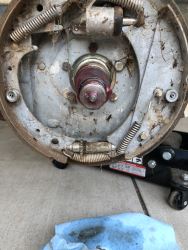 click to enlarge
Ask The Experts a Question >>
Featured Help Information
Miscellaneous Media