Brake Controller Installation on 2021 Jeep Wrangler Unlimited With Factory Tow Package
need info I owen a2021 jeep wrangler looking to put a trialer break in it in VA no knowes if there i a factory plug on the fire wall my jeep is the eco dieasl with factory 7 oin at bumper
asked by: John D
Actually, since your Wrangler Unlimited is equipped with the factory tow package, it will have the brake controller connector under the dash. The install is something you'll be able to complete yourself with ease as it's a plug and play install. The connector is located under the dash to the left of the steering column, near the top of the emergency brake pedal as shown in the provided photo.

Rather than the time delayed Activator IV # 5504 you'd looked at, I'd recommend a proportional controller like the Brake EVN # TK63VR . With a time delayed controller, you can preset how much power is sent to the trailer brakes and how quickly you'd like it delivered, but it'll always send the same amount of power whether you tap the brake or stomp the pedal with both feet in a panic stop.

A proportional controller features an internal accelerometer than can sense how quickly the vehicle is braking, and will then send the appropriate amount of voltage to the trailer brakes so the vehicle and trailer stop at the same rate. This provides safer, more reliable and more predictable braking.

If you use a Tekonsha or Draw-Tite controller like the # 5535 or the # 5504 Activator IV you'd looked at, you'll also need a # 3073-P brake controller wiring harness.
expert reply by:
Mike L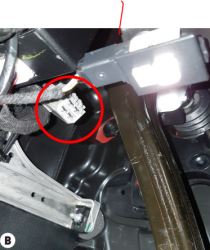 click to enlarge
Ask The Experts a Question >>
Featured Help Information
Instructions