Will a Curt Trailer Hitch # C15809 fit a 2012 Dodge Ram 2500 Mega Cab
Dear Sirs, I have a 2012 Dodge Ram 2500, Mega cab, 4X4. Will your C15809 class V hitch of yours mount on the Mega Cab? I notice you mention it won't fit a "Cab" and "Chaise" however, I'm not sure if you mean the Mega Cab. One of your competitors specifically mentions and excludes the Mega Cab with their Class V hitch. If in fact it doesn't fit do you have a Class V hitch that will fit a Mega Cab? Thank you,
asked by: Mark H
The Curt Trailer Hitch Receiver # C15809 that you referenced will work on your 2012 Dodge Ram 2500 Mega Cab.

Cab and chassis model trucks come from the factory without truck beds on them at all. Typically trucks are bought like this so a flat-bed or service body can be installed.

Check out the picture I attached that shows a cab and chassis truck.
click to enlarge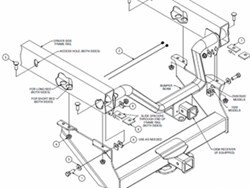 click to enlarge
expert reply by:
Jameson C
Question:
Jameson, Thank you for your reply regarding my question on fitment. If I read your information correctly, this hitch does not require any holes to be drilled beyond what the factory has supplied. If this is so can you tell me if this hitch mounts from the top, side or bottom of the truck frame. Thanks again Jameson
asked by: Mark H
You are correct, you will not need to drill any holes to install the Curt Hitch # C15809. You will have to fishwire a few bolts. I attached a video on how to do this in case you are unfamiliar with this technique.

The hitch also mounts to the bottom of the frame.

I attached a picture I took from the installation instructions that will show you how it installs.
click to enlarge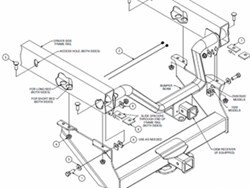 click to enlarge
expert reply by:
Jameson C
Ask The Experts a Question >>