Replacement 3500 lb Hub/Drum for TruRyde RVD-H-65535 10 Inch Trailer Brake Drum
Looking for a hub asenley for a dexter axel 3500 pound 10 6 on 5 or 5.5 hub that is on it the part number is red-h-65535
asked by: Robert S
The hub you describe is a 3500 lb 10 inch hub/drum with a 6 on 5-1/2 inch bolt pattern which uses an L44649 outer and an L68149 inner wheel bearing and a 58846 grease seal. For a replacement, I'd recommend the
# AKHD-655-35-EZ-K hub/drum. The hub/drum includes the inner and outer bearings, races, the grease seal, dust caps for both EZ Lube and standard spindles as well as lug nuts. The hubs are pre-packed with grease.

For replacement brake assemblies, I'd go with # AKEBRK-35-SA self-adjusting brake assemblies which after initial setup, will ensure that your trailer brakes stay properly adjusted. The installation hardware for the brake assemblies isn't included. If you don't wish to reuse your existing hardware, you can use # BRKH10B to replace it.
expert reply by:
Mike L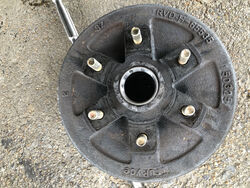 Customer Submitted Photo TruRyde RVD-H-65535 10 Inch Trailer Brake Drum
(click to enlarge)
Ask The Experts a Question >>