How to Replace the Brakes and Drums on a 1968 Aristocrat Lo Liner Travel Trailer
Im the owner of a 1968 Aristocrat Lo Liner travel trailer. The wheels are 5 on 4 1/2, and Id like to replace the brake assembly drums ect. Im wondering which would be the best replacement. The weight of the trailer is 1800 lbs. I added some pictures of brake assembly.
asked by: Dave C
To find the correct replacements for your trailer, there will be a little more information needed.

First, you will need to know your inner and outer bearing numbers. However, these do ware off over time so you can also measure a few things to get this confirmed. The inside diameter of both inner and outer bearings, or the diameter of the spindle section they sit on, pictured below, will also tell you which bearings are needed.

Next you will need to measure the bolt pattern of the backing plate on the brake that attaches to the axle. Something like our electric brakes # AKEBRK-35-SA will install on a standard 4 bolt pattern, also pictured below. This will also fit inside a drum that measures 10 inches in diameter and 2 1/4 inches deep.

If you let me know what all you have for these, I can definitely get you the parts needed.
expert reply by:
Lazer S
Needed Spindle Measurements
(click to enlarge)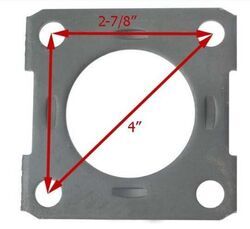 Standard 4 Bolt Trailer Brake Flange
(click to enlarge)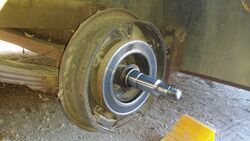 Old Trailer Brake
(click to enlarge)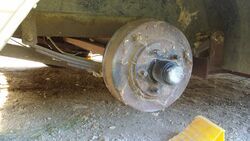 Old Trailer Brake Drum A
(click to enlarge)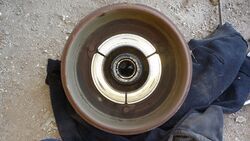 Old Trailer Brake Drum B
(click to enlarge)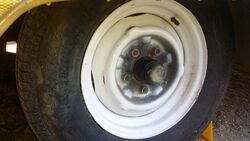 Trailer Wheel
(click to enlarge)
Ask The Experts a Question >>