Flat Tow Prep Needed For A 2020 Buick Envision
We had AirForce one supplementel brake system, Blueox base plate, wireing and diodes installed in Buick 2020 Envision. Motorhome is Diesel Phaeton 2006. We left Lazydays after installation of AF 1. After getting home shut motorhome off and went to disconnect car. As we approached car THE ENGINE WAS RUNING!!! Shut it off and disconnected from motor home . Wonder if anything during installation could cause this Problem ?
asked by: David D
When setting your 2020 Buick Envision up to flat tow you'll turn the ignition on to place the transmission into Neutral but after placing it in neutral you'll want to turn the ignition back to the off position. So the engine shouldn't be running while towing.

You'll also want to remove fuses 29 and 32 to prevent the battery from draining while towing. You can install the Roadmaster FuseMaster Fuse Bypass Switch for Towed Vehicle - (2) 20-Amp ATM Mini-Fuses Item # RM76512 to turn the fuses off with a switch instead of having to pull them and put them back in every time you want to tow.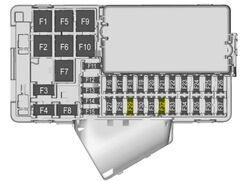 2020 Buick Envision 29 And 32 Fuse Locations
(click to enlarge)
expert reply by:
Kevin C
Ask The Experts a Question >>