Flat Towing Equipment Recommendations For A 1995 Jeep Wrangler YJ
I have a Ox Blue tow bar with legend engraved on the metal front of it Shelby 5135 CL II-2inch BALL V-5 USE APPROVED SAFETY CHAINS Coupler Capacity 3500 Lbs. MGTW 300 Lbs. Tongue WT Can I use this two bar to tow my Jeep Please attached pictures Please let me know
asked by: Carlos M
Based on the pictures of the tow bar and safety cables I highly recommend upgrading to some newer equipment like the Curt Single Hook, Coiled Safety Cables with S-Hooks - 42" Long - 5,000lbs - Qty 2 Item # C80151 and Blue Ox Adventurer Tow Bar - Car Mount - 2" Ball - 5,000lbs Item # BX7322 just to ensure the safety of your vehicle. If one or more of these failed you could end up in a breakaway situation in which you Jeep could be freely rolling down the road with no one at the wheel.

The curb weight I'm finding for the 1995 Jeep YJ is 3000lbs so as long as you don't add more weight and go over the 3500lbs weight capacity of the tow bar you have you could use it. The safety cables you have would also need to be rated to hold that amount of weight.

You'll also need a base plate, braking system and tow bar wiring kit to flat tow your Jeep. I have the following recommendations below:

Base Plate: Blue Ox Base Plate Kit - Removable Arms Item # BX1137. The hidden reinforcements, along with the removable bracket arms, provide a clean, unobtrusive look when your car is not being towed.

Braking System: Roadmaster BrakeMaster System w BrakeAway for RVs w Air or Air Over Hydraulic Brakes - Proportional Item # RM-9160. This proportional system uses the air pressure from your RV's brakes to apply the brake pedal in your car.

Tow Bar Wiring Kit: Roadmaster Universal Hy-Power Diode Wiring Kit Item # RM-154. This wiring kit will splice into your vehicle's wiring to signal using the tail lights instead of having to run magnetic lights to the rear of the vehicle every time you want to tow.

As always you should review your owner's manual and follow any steps listed for towing your vehicle to ensure the safety of its components.
expert reply by:
Kevin C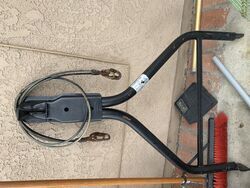 Customer Tow Bar
(click to enlarge)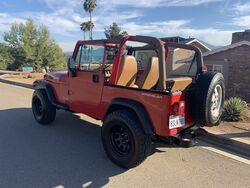 1995 Jeep YJ
(click to enlarge)
Ask The Experts a Question >>
Featured Help Information
Instructions
Miscellaneous Media