Replacing Older Tie Down Engineering 46210 and 46845 Trailer Hubs
l'm replacing the hubs on my loadrite boat trailer. The hubs I currently have are marked 46210 and 46845. I want to replace them with vortex hubs. From what I can tell it would be 81022 hubs and F46246 rotors. Is this correct? Do you sell complete bearing/seal vortex hubs with integral rotors?
asked by: Denny J
I did some looking and found that the 46210 and 46845 hubs you currently have use the same # L68149 inner bearing and # L44649 outer bearing. However, as we do not carry the Tie Down Engineering Vortex hubs, I cannot say what all will fit them, unfortunately.

With that being said, the Kodiak 10" Hub-and-Rotor Assembly # KHR10D paired with the bearing kit # BK2-100 will definitely attach to your spindle. From there, the Bearing Buddy Bearing Protectors - Model 1980A w/ Auto Check - Chrome Plated # BB1980A will allow for easy greasing.

Depending on how the rest of the components, like the calipers and caliper brackets, are looking, it may be better to replace the whole system. The Kodiak Disc Brake Kit - 10" Hub/Rotor - 5 on 4-1/2 - Dacromet - 3,500 lbs # K2HR35D will still need the bearings and Bearing Buddy system, but will be a more complete kit.
expert reply by:
Lazer S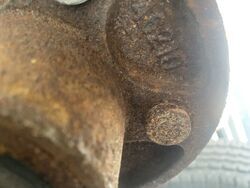 Tie Down Engineering 46210 Hub
(click to enlarge)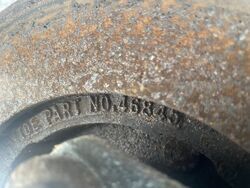 Tie Down Engineering 46845 Hub
(click to enlarge)
Ask The Experts a Question >>