Recommended Reese Goose Box For 2021 Keystone Montana High Country 331RL
We're looking to get Reese goose box 20k but don't know which one to get. Our fifth wheel has a lippert pin box with LCI item number 7095381 and rpo 0004537745. We have a 2021 F250 short bed and a 2021 331RL Montana High Country.it would really help if you can help us with particular model and what accessories do we need spacerandchains. Thank you in advance.
asked by: Janice H
Thanks for the picture!

I reached out to my contact at Lippert with the information on your pin box sticker and she was able to confirm that your 2021 Keystone Montana High Country 331RL has the Lippert 1116 pin box with a 19000lb rating.

The correct Reese Goose Box for you is the # RP85FR with the spacer kit # RP61301. With that said due to your 2021 Ford F-250 having a short bed I do not recommend going with this option, as you will not be able to make very sharp turns without having cab to trailer clearance issues.

I recommend sticking with your 5th wheel pin box and using a sliding 5th wheel hitch to get the proper cab to trailer clearance to make sharp turns.

If your truck has the OEM puck system I recommend going with the Curt A20 5th Wheel Trailer Hitch w/ R20 Slider - Dual Jaw - 20,000 lbs # C16541 with rail adapter # C88KR, and if you do not have the OEM puck system I recommend sticking with the same hitch but installing above bed rails # BWRVK2402.

I included videos of the products mentioned for you to take a look at.
expert reply by:
Samuel C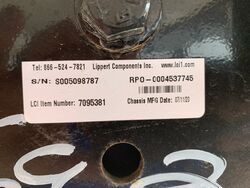 Customer Picture
(click to enlarge)
Ask The Experts a Question >>
Featured Help Information
Instructions
Miscellaneous Media