Replacement Trailer Hubs For Spindle That Uses 1-1/4" Inner Bearing and 3/4" Outer Bearing
I have a spindle that is 3/4 inch outer and 1 1/4 inch inner. Seems pretty old. Is there a hub that would work?
asked by: Jeff
The Agricultural Trailer Hub Assembly # AH15450ECOMP is what you are looking for. It uses a Inner Bearing # LM67048 which has an inner diameter of 1.250" and an Outer Bearing # LM11949 with an inner diameter of .750". You can verify that the Grease Seal # SL150 with the inner diameter of 1.500" matches your spindle.

I did notice that there is a lot of scratches on your spindle. If these are deep grooves that your fingernail will catch on you should replace your Spindles # TRU54FR so that the the bearings and grease seals will fit properly and not become easily damaged.
expert reply by:
Gregory M
Measuring For Replacement Bearings And Grease Seals
(click to enlarge)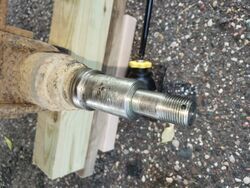 Customer Image
(click to enlarge)
Ask The Experts a Question >>