2022 Toyota Highlander Wiring for a 7-Way Blade Connector
I have just purchased a 2022 Toyota highlander that has a flat 4 pin trailer attachment. I also just purchased a travel trailer with the round 7 pin attachment. Do I have to rewire the Toyota or is there another solution? Also, I was going to use the curt echo Bluetooth brake controller. I went to pick up trailer with Silverado with the 7 pin and the controller would not fit. Tech also said trailer would not plug into that. He said they were different shapes, but I read in one of these comments that all of the 7 pin are the same. Any thoughts?
asked by: Sharon W
I would be happy to help you set up your 2022 Toyota Highlander to haul your new travel trailer. The wiring harness you currently have controls your trailer's lighting functions only. You do not need to rewire your Toyota you just need another harness. The second harness you will need is the Universal Installation Kit for Trailer Brake Controller - 7-Way RV and 4-Way Flat - 10 Gauge Wires item # ETBC7. The kit includes a pre-wired 7- and 4-way trailer connector that mounts easily at the rear of your vehicle with an included bracket. This kit is designed for use on a vehicle with an existing 4-way flat trailer connector and plugs directly into it. You will then connect the blue wire to the blue wire on the brake controller, connect the black wire to the positive post on the vehicle's battery, the white wire to ground, and the yellow wire to vehicle's reverse circuit if applicable. This will provide you with the ability to control your trailer's brakes and also provide you with a 12v power wire for you trailer's accessory lights.

There are two different types of 7-way connectors. 7-way blade is the most common but there is also a 7-way round. I have attached a diagram to show the differences in the two. It sounds like your trailer has a 7-way round so you will need an adapter for it to work with your Toyota Highlander and Curt Echo Brake Controller item # C51180. I recommend the Pollak Trailer Connector Adapter - 7-Blade Plug to 7-Pole Round Pin item # PK12728. This will allow you to connect your trailer's 7-way round to your Echo, and Toyota's 7-way blade.

If you want to have your trailer rewired so you do not have to worry about using an adapter I recommend the Trailer Wiring Junction Box - 7 Terminals item # 3375601100 and the Hopkins 7-Way RV Style Connector with Molded Cable - Trailer End - 8' Long item # H20046 you were looking at. These two parts will allow you to rewire your new travel trailer with a standard 7-way blade trailer connector. The durable polypropylene box creates a fast, easy way to connect the wires from the trailer connector to the wiring for a 7-way connector.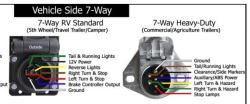 7-way 7 blade
(click to enlarge)
expert reply by:
Jerred H
Ask The Experts a Question >>
Products Referenced in This Question
Featured Help Information
Instructions
Miscellaneous Media