Replacement Roof Vent Lid For An Elixir Roof Vent
I have a Elixir SN 556523 roof vent with a 3 point hinge. What replacement cover would I need Thanks
asked by: Larry S
I have some options for you as I have no way to look up the lid type by your serial number on your Elixir roof vent. I have attached an image from Camco of the common roof vent hinges.

It lists the Elixir vents as having a straight hinge like Lid # CAM40155 or # CAM40156.

Since you mentioned the hinge attaches at 3 points it could be the Lid # CAM40153, # CAM40154 or BVD0449-A01.

If none of these hinges in the image match your lid we do have Universal Lid # MA00-335001 that will come with a universal hinge that will install onto your roof flange of your current vent.
expert reply by:
Gregory M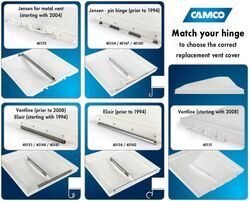 Camco Hinge Identification Chart
(click to enlarge)
Ask The Experts a Question >>